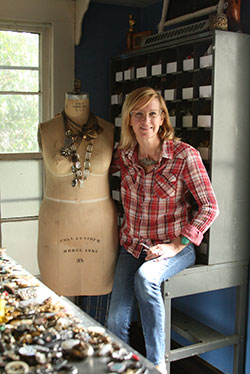 Kerry Leasure has always had a passion for all things old and long forgotten, and a love for the thrill of the hunt. She founded Here a Chick There a Chick in 2012, initially as an antiques dealer, and started offering her vintage jewelry finds to followers on Facebook. She immediately began playing around with the broken, unsaleable, and odd bits to create one of a kind pieces. As her passion for creating jewelry, and her clientele grew, eventually her booths were put aside in favor of working in her studio, and selling her work at vintage and art shows. Each next step has been an adventure, and like all the best ones, never in a straight line. It's been her joy to discover that her best find has been Herself.
Her jewelry line is hand made from antique, vintage and found objects. Her desire to surprise and delight her clientele. A snip of humor, a splash of symbolism, a glint of sparkle, a wink of mischief. Each bit begins its life as one story, she writes them a new one, and the story then finds it's owner. Nothing beats the magic of that moment, when a customer's eyes light up with the recognition of "This is Mine"! Each piece is truly one of a kind and cannot be recreated. She finds her materials everywhere and is endlessly hunting. There is no system to her work, other than the question "what should I make today?".
Kerry creates in her studio in the 1902 Alabama home where she lives with her husband and their three "chicks". She sells her jewelry at a variety of ever updating shows throughout the South East, and from this website. New pieces posted daily on Here a Chick There a Chick social media.
Email for inquiries.  hereachickthereachick@gmail.com